Marc Interviews Dean Brody
Loading advertisement...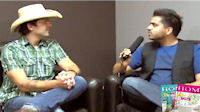 Up next
DIY Scarf Tutorial
Cancel
Marc Interviews Dean Brody
Canadian Home Trends Magazine?s Editor-in-Chief, Marc Atiyolil, chats with Dean Brody, the Canadian country singer and songwriter. They discuss music, design and family life. Dean Brody is a rising star. As well as being a one of a kind artist, he is also down to earth and enjoys spending his spare time on do-it yourself projects in his Nova Scotia residence, where he lives with his wife, Iris. While Dean is not busy entertaining and touring the country, he loves to scour flea markets, scouting out unique treasures and refinishing them. ?I love antiques? Brody notes. ?While in Nashville, we found an old garden table. It looks like something out of an old Tuscan farmhouse.? Dean describes his rustic getaway as home because it is filled with antiques that he and his wife have collected over the years. Dean notes that the living room is his favourite room in the entire house because he and his father worked together to transform the fireplace using a 100 year old barn beam. The floors, which were once a golden maple, were refinished and aged to complement the farm house style. It is apparent that Dean has great taste which attests to his impeccably designed home.