Holiday Fashion Trends and Tips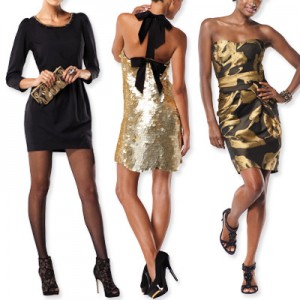 The holidays are fast approaching. The party invitations are addressed. The RSVPs will soon be due and you do not know what to wear to the holiday party. Here is a little guidance about the popular trends.
Holiday Cocktail Party
This is the venue in which to show your sexy and fun side. Sparkles rule. Short, kicky cocktail dresses in a variety of colors, with black always being a basic, are the perfect choice. Footwear includes strappy booties or a pair of colorful high heel pumps.
How about your guy? Toss aside the standard necktie and go for a fun bowtie. Don't get stuck in the traditional black tie look. Try a modern brown tuxedo, instead of black.
Holiday Office Party
Keep your outfit professional and relatively sedate. Remember, you need to go back to the office on Monday with these people. One way to approach this wardrobe decision is not to change your outfit after work but to dress up your usual office wear.
If you wear a little black sheath-style dress and colorful cardigan to the office, try this for the holiday party: Shed the cardigan and add a glitzy necklace and pumps to the mix. A patterned sheath can be dressed up with a skinny belt and colorful shoes. Make it fun but keep it tasteful.
For men only: Leave on your day wear dress suit for the party or make it a little more casual by swapping the jacket for a cardigan or more casual blazer. A button-down, rather than spread collar shirt clearly lends a more casual look.
Holiday Brunch
This is the time to break out the sweater for a warm and cozy gathering. A soft, pullover, cowl neck sweater, paired with a simple skirt or trousers is a perfect choice. Throw on a pair of popular cap-toe flats and you are ready to go.
Men, listen up. Once again, a tasteful sweater and crisply pressed trousers are the best choice for brunch. A pair of loafers, tasseled or otherwise, finish this look.
Holiday Dinner
On the actual holiday, families gather together for a special meal. While not a formal affair, it is a sophisticated get-together that warrants a well-coordinated outfit.
A trendy tie-neck floral or print blouse looks great with a simple A-line skirt or tailored trousers. Loosely tie the blouse tie-neck in a slouchy bow. Add a dark cardigan or blazer over the blouse and the dinner ensemble is complete.
Guy alert! Slip into a traditional dark suit and this pulled-together look is perfect for dinner. This works for those trying to make a real impression on the hosts. Otherwise, a crisp pair of trousers and a crewneck sweater, with a button-down, shirt beneath works in a very casual setting.
How About Some Fashion Basics?
The aforementioned fashion suggestions work for specific social holiday gatherings. What about a few general fashion-forward ideas for the holidays? The popular trends to mix and match for high fashion holiday parties:
·      Wear layers. Start with a tank top, add a collared shirt then slip into a cardigan or blazer to finish the look. Here are some layered outerwear trends. Start with a popular pea coat or traditional long style coat with a collar. Add a coordinated, not matching, hat, scarf, gloves and boots for a fun look.
·      Dresses are a popular trend, despite the dropping temperatures. Wear a dress with a fun pair of tights and a pair of flat boots to keep your legs warm during your holiday outings. Popular dress fabrics are velvet and heavy weaves like brocades and jacquards. Think thicker fabrics for warmth.
·      Just because it is a winter holiday season, it does not dictate that all fashionable attire needs to be a subtle black or gray. Adding colorful touches to every outfit is trending. Add colorful scarves and jackets to an outfit to freshen it. For basic wardrobe pieces, select deep color tones and popular leopard prints to fill your closet.
·      A quick look at shoes is revealing flat footwear. Flat boots, loafers and ballet flats with cap-toes are the go-to footwear choice for the holiday season.
Holiday fashion can be a wonderful blend of high fashion and comfortable pieces. Make it fun.
Katie Francis believes in living life to the fullest. She scours the web for women's clothing and hunts for designer labels for affordable prices. Aside from strutting on the streets of downtown NY, she lives to read, write, and party.
Photo Source: InStyle