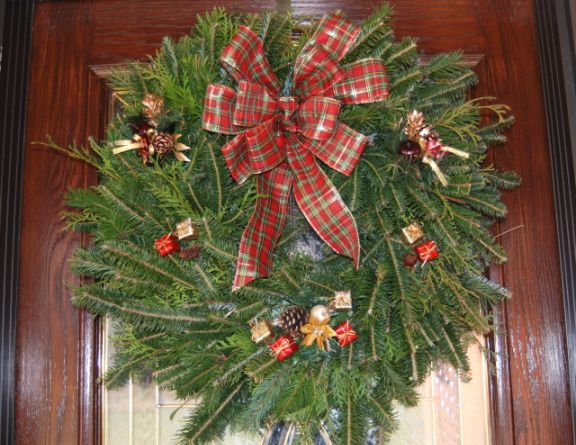 7 DIY Eco-Friendly Christmas Wreaths
Have a green Christmas when you make these eco-friendly wreaths from reusable materials you probably have lying around the house.
Mixed Greens: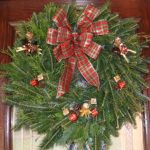 This woodsy design, decorated with fruit and plants, mixes the fake and real together. Get a hold of 16-inch grapevine wreaths and artificial Granny Smith apples. Use a glue gun to attach the apples, making sure they are evenly distributed around the ring. Opt for an assortment of seasonal flowers (white poinsettias are a great option). From the forest floors, you can collect pine cones, eucalyptus and more to put all together and make one great wreath.
Add a Touch of Dad: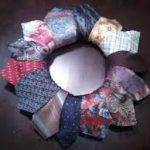 You can add a touch of dad into this wreath. Start with a 14-inch wire wreath form from the craft shop and 19 ties he's not using. Chop all the ties but one into 15-inch length pieces. Put the narrower of the first tie, front side up, on a section of wreath. Wrap the tie around form until pointed end is in position, hiding the rolled tie. Fasten with pins. Repeat this step by overlapping the ties slightly. Turn over wreath; sew rolled up ties to the back of points and pin on the uncut bowed tie.
White Christmas: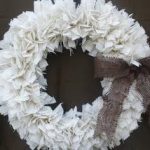 Matte white spray paint will transform grapevine twigs and pinecones into icy wreaths. Start with a 18-inch grapevine wreath. Look for natural pods in a host of different shapes. Pinecones and seasonal nuts from mixed nut packages will add a bit of subtle flair to the design. Use a hot glue gun and glue the nuts to the wreath. When everything is added, place the wreath on the newspaper and spray paint the whole thing. Let dry and then loop with wire in the back to hang.
Christmas Ball Wreath: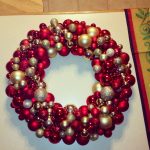 This shimmery stunner takes Christmas ornaments off the tree and onto the wall. Buy a straw wreath about 22 inches in diameter from the craft store. Using a 1/2 yard of white felt cut into 3-inch-wide strips, wrap each piece around the wreath, pinning to secure and overlapping the edges. Take assorted Christmas balls and attach to the felt with a low-temperature glue gun, using the smallest balls to fill in holes and gaps. This is also a great way to use older ornaments that may not look good from all angles. You can also add small stars, snowflakes, or other ornaments to give your wreath a unique look. Hang with wire, wrapped securely around "top" of wreath. (Note: You'll need to add the wire before you cover the wreath)
Recycled Wreath: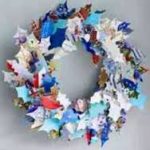 Recycle holiday greeting cards into holly leaves for this one-of-a-kind Christmas wreath. Use a holly leaf stencil, trace onto old cards and cut out holly shape. With a glue gun, glue a toothpick on to the backs of each one of the leaves to form a 1 inch pick at the bottom of each leaf. Take a 10 inch styrofoam wreath and insert the leaf picks around the shape until it is completely covered, fanning and overlapping them as shown. Cut out more holly leaves as needed to cover the wreath with re-gifted Christmas cards.
Cork Wreath: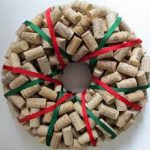 Add some flair to a dining room with wine corks attached to tiny red jingle bells. You'll need about 22 corks of the same size and 22 small 3/8 inch red bells. Drill a small hole just big enough to fit your wire through a 1/4 inch from the top of each cork and another 1/4 inch from the bottom. It's important to make sure all the drilled holes at the top line up with the holes at the bottom. Using long, green floral wire, push the wire through all the bottom holes of the cork. Leave enough wire at both ends when finished for tying closed later. Cut another long piece of floral wire to string the tops of the corks together, alternating with the bells. Tie the ends of wire at the top and bottom, twisting to close and make a wreath shape.
See Stars: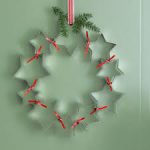 Assembled in minutes out of common home supplies — star cookie cutters, silver paper clips, and red twist-ties — this charming creation is a cinch to craft. On a flat surface, arrange cutters into a circular shape as shown; clip together where stars touch. Carefully flip wreath over and secure the same spots with additional paper clips. Tightly twist twist-ties around these sections as shown. Evergreen sprig optional.
Save